Sense Adventures in Malvern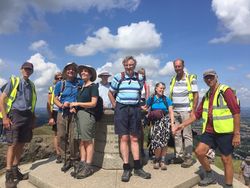 Sense Adventures offers guided walks and short breaks in the Malvern area for blind and partially sighted walkers. People come from all over England to enjoy short holidays with the organisation that was set up by Dee Jones when she discovered how difficult it was to find activities if you're visually impaired.
'At the moment we need more people to volunteer as guides, whether that's walking on the Hills or helping our visitors to take part in other activities', Says Dee. 'A recent short break included taking part in apple juicing with Colwall Orchard Group and a cookery session with Our Lizzy Cookery School in Malvern Link. If you enjoy walking and want to share your experience with others and enjoy the immense rewards of seeing the Malvern Hills through all your senses, being a guide on a Sense Adventures Day walk or walking break could be just for you.'
Groups of up to ten blind and visually-impaired people come at any one time. Those who struggle to pay for it are helped with donations from both individuals and local organisations that include Malvern Rotary Club.
Volunteer guides can choose how much time they can spare to help out. 'You will find that sharing the activity with a blind or partially sighted person will help you stretch your own senses and enhance the experience' says Dee. 'We will help you to understand the needs of the blind person and the main principle is to ask about each individual's specific needs. Many visually impaired people have some sight and their vision and needs will vary.'
Among those who have enjoyed a Sense Adventures Break in Malvern is Aletea Sellers. She said: 'As a blind person it's not always easy to go for a walk in somewhere like this for fear of getting lost or disoriented or being uncertain of the terrain. With the support of the Sense Adventures guides it is possible to experience the freedom and excitement of the Malvern Hills landscape. We are all a friendly and sociable bunch and each walk is a different but enjoyable experience.
One of the volunteers is Ann, who has found it a great way to meet new people. She said: 'I have been volunteering as a sighted guide for a few years now and I absolutely love it. We have had great days (although not always with great weather!), meeting new people, their dogs and enjoying the Malvern Hills. You don't need to be an expert in sight loss, the person you are supporting will be able to explain how best to assist them. You do need to like dogs as well as people: the guide dogs get 'time off' from their working duties on these walks and they really enjoy their freedom! Add in a picnic lunch or maybe a café for tea and cake . . . why not get your boots on and come with us next time?'
FIND OUT MORE
See www.senseadventures.co.uk and call Dee on 07920 144614 or email: dee@senseadventures.co.uk