Halo Swimming Lessons Ledbury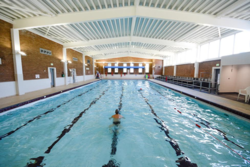 Swimming Lessons at Halo, Ledbury Swimming Pool are taking bookings for children aged 3+! Learning to swim could save your child's life (drowning is still one of the most common causes of accidental death in children) but it also keeps their heart and lungs healthy, improves strength and flexibility, increases stamina and even improves balance and posture.
Halo have made improvements to the swimming lessons by introducing platforms to allow your children to not feel like they can't touch the pool floor - great fun! They have also split their stage 1 group up into two stages to allow your children to progress easier and attain badges quicker.
To book your childs FREE swimming assessment or to find out more please click here or call Halo on: 01531 632890
Related Pages
About Halo Leisure We want people to feel good. One of the best ways for you to do that is to participate in leisure activities and fitness classes, which is why we are dedicated to providing exciting, value for money activities and serv...

Read more »