Ledbury Market Days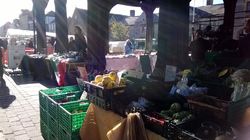 Daytime
Tuesdays and Saturdays
A regular market is held in Ledbury on the High Street, around and under the Market House, on Tuesdays and Saturdays.
There's a variety of stalls including food, crafts, hardware and gifts.
There's been a regular market held in Ledbury since at least 1138, you can read more details on the website of Ledbury Town Council.
For enquiries about markets stalls, please talk to Ledbury Town Council on 01531 632306.