Layton Avenue, Malvern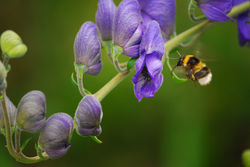 Developed over seven years and now maturing, this is a garden to linger in.
The entrance is via a wisteria and clematis draped pergola opening onto lawns with beds and borders packed full of interesting plants and trees. Like all gardens this one changes from year to year. All plants on sale are from cuttings or seeds from the garden. A stream side garden and ornamental pond complete its attractions.
The garden on two levels has plenty of seating at both levels including some in the climbing plant festooned victorian gazebo. Streamside seating is shady and further seating on the patio has umbrella shades and tables on which to put your cakes and drinks
Access:
There are three steps at the garden entrance and a further four steps to access the stream side. Wheelchair access can be achieved with assistance