Paula Trafford Therapies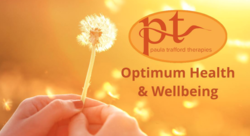 Pilates Exercise Teacher, Organic Massage Therapist & Colour Image Consultant, based in Malvern
Paula offers various sessions and services including:
Pilates Classes and 1 to 1 sessions. Offered in a variety of venues in Malvern. These classes are tailored specifically to meet your progressive needs. From Rehabilitation to Beginners to Advanced.
Kum Nye Tibetan Yoga : Kum Nye is traditional Tibetan healing, using movement, breath, self-massage and mindful meditation; mind relaxes, senses open and heart awakens. Relaxation in the context of Kum Nye means "Coming to Life".
Organic Complementary Therapies : A wonderful, luxurious way to restore the body's natural balance, putting your mind and body back in harmony.
Massage at Work : A seated, over the clothes 15 – 20 minute massage will give you a well – earned break from work leaving you refreshed, focused and uplifted.
Pilates Workshops : Please contact me for bespoke workshops for you and your group.
Please visit Paula's website for more information and class details.
Tel: 01684 566076 / 07985 211555
Related Pages
Pilates Exercise Teacher, Organic Massage Therapist & Colour Image Consultant, based in Malvern

...

Read more »