Perrycroft, Upper Colwall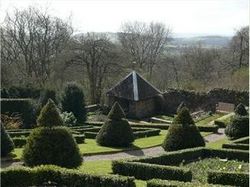 Open Garden
Jubilee Drive, Upper Colwall, Malvern, WR13 6DN
Visitors and groups also welcome by appointment.
Contact: Gillian and Mark Archer, 07858 393767
Directions: From A449 Malvern to Ledbury Rd, take B4232 at British Camp (Jubilee Drive). Garden 1 mile on the left. Park in Gardiners Quarry car park on right, short walk to the garden. No parking at the house.
Description
10-acre garden and woodland on upper slopes of Malvern Hills with magnificent views. Arts and Crafts house (not open), garden partly designed by CFA Voysey. Ongoing restoration, walled garden, yew hedges, old roses, natural wild flower meadows, ponds (unfenced), bog garden, gravel and grass walks. Some steep and uneven paths.
In the press
Featured in House and Garden, Country Life, Gardens Illustrated