Green Fingers in Summer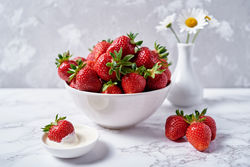 Down at Caves Folly Nursery in Colwall, Bridget gives her thoughts on why the actions of gardeners are so crucial to improving the environment.
This spring at the nursery, we have been busy helping customers who are all keen to buy organic and chemical-free plants. It's taken 35 years of me 'bashing on' about it, but it is rewarding to know how much the public now care about saving our pollinators. I have also received orders from various gardening and conservation groups, community gardens and even The Eden Project, all wanting organic and peat-free plants.
This is great news for our wildlife, as our gardens cover a huge area of the UK. The most precise measure I have seen is an area of 432,964 hectares, which, using the standard area measure, is one fifth the size of Wales. Putting this in protected landscape terms, it is the area of the Norfolk Broads, and the Exmoor, Dartmoor and Lake District National Parks added together.
One quarter of the area of a typical city (and half its green space) is private gardens, so the potential national significance of gardens as a resource for wildlife is clear. If we can stop using chemicals in our gardens and use pollinator-friendly plants, each of us can contribute to creating quite a significant area of the UK that is wildlife-friendly.
Jobs in the Garden for June and July
Throw away the pesticides (responsibly!)
Enjoy the aphids - they feed the birds, so save on bird food.
Cut back early spring flowering herbaceous plants such as geraniums and they will flower again in late summer.
Keep an eye on watering, especially newly planted trees and shrubs.
Dead-head bedding in containers and baskets and feed regularly.
Keep picking sweet peas to encourage new flowers.
If we have hot weather do not cut the lawn too short. It took a long time for heavily scalped lawns to recover last summer.
Kitchen garden
Earth up potato plants to stop tubers turning green.
Nip outside shoots on tomato plants and feed each week with a tomato liquid feed.
Make continuous successional sowings of herbs such as Dill, Coriander, Chervil and salads right up until the middle of September.
Keep picking peas and beans and tie them securely.
Freeze fresh produce ready for winter.
Enjoy a bowl of strawberries and cream!
As we are celebrating 40 years on the nursery this year and I would like to say thanks to all our caring and loyal customers, friends and family. Without them we would not have survived the rollercoaster of challenges that all growers face.
Thank you,
Bridget
Bridget runs Caves Folly Nurseries on Evendine Lane in Colwall (WR13 6DX). They are open from March until October, Thursdays to Saturdays from 10 - 5. You can contact them on 01684 540631 or visit their website: www.cavesfolly.com