About Us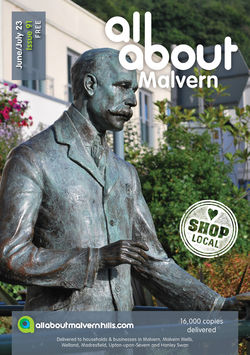 All About Magazines is a truly independent local business which was started in January 2009 by Sascha McDonald. With a background in the charity and social sector, Sascha sees All About Magazines as a way of connecting local people with the local businesses around them, as well as everything positive going on in the community as a whole. With truly local articles, much of the content is provided by local people and aimed squarely at a very local readership. The magazines contain information on upcoming events, the people behind local businesses, local community action as well as information about sourcing locally available services and products.
The first magazine appeared in March 2009, and was initially called 'All About Colwall & Area'. It was well received by the community as a welcome addition to existing sources of local information, and anecdotally readers began to keep hold of the magazines, in some cases for the entire year! The success was quickly apparent and the magazine was re-named as 'West of the Hills' and the delivery area was expanded. The second edition for Malvern, All About Malvern, came into being November 2009 when businesses began asking for a similar service for the town. To satisfy online demand an additional event driven community website was launched in April 2012 covering the Malvern Hills area.
Today a total of 34,000 magazines are delivered over two months, mostly to households, with the remainder going to local 'pick-up' points and businesses. The three titles of the magazine allow content that is specific to a very local area; the first for Malvern including Upton-upon-Severn, the other for the area West of the Hills: Colwall, Cradley, West Malvern, Mathon, Bosbury, Coddington, Ledbury, Storridge and Wellington Heath and our publication for people living in Worcester & surrounding villages: St John's & Villages (Hallow, Broadheath, Rushwick, Bransford, Leigh Sinton, Callow End and Powick).
'I really enjoy talking to the great variety of business people locally', says Sascha, 'and I'm pleased to be able to offer a targeted and affordable way of advertising, combined with the help and support when it comes to designing an advert, or shaping the message they want to get across. I get special satisfaction through the magazine's contact with local people and charities, talking about their voluntary work, their passions, and helping them to find a way of telling the rest of the community about what they do'.
The business became a registered company in April 2010, 'All About Local Magazines Ltd.' and each edition helps more than 200 businesses bring their message to the public.
All About Local Magazines Ltd is a registered Company in England: Company No. 7200758