Our Lizzy's Recipe: Seasonal Asparagus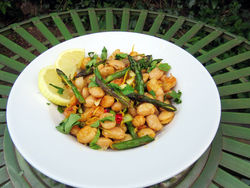 A really simple summer dish making use of local asparagus
Ready in 10 minutes - Serves 2
Ingredients:
bunch of asparagus, sliced
2 cloves garlic, crushed
1 tin white beans
zest of 1 lemon
pinch of crushed chillies
handful chopped parsley
2 tbsp extra virgin rapeseed oil
salt and pepper to taste
Method:
Put pan on the heat, add the asparagus with a small amount of water. Steam until cooked.
When the water has absorbed add some oil. Add the butter beans and fry for a few moments.
Add the garlic, chilli and lemon zest and cook for two minutes more.
Remove from heat, season to taste, add more chilli if required. Sprinkle with chopped parsley to serve.
For details of cookery classes and parties see www.ourlizzy.com
or contact Lizzy on 01684 892 688 - Lizzy also offers tailor made cookery sessions