Green Fingers in Autumn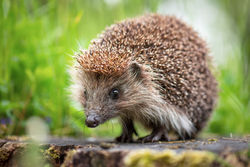 Down at Caves Folly Nursery in Colwall, Bridget is looking back at a significant anniversary.
What a great 40th year celebration we have had here at Caves Folly Nurseries. Starting with the RHS Malvern Spring Festival, we have had an endless stream of positive comments about our plants and growing methods. It is so rewarding to know that all the hard work and dedication we put into our little nursery has influenced so many people.
One season seems to drift into another and suddenly autumn is here, time to wind down a bit, gather in the harvest, and plan for next year! There are plenty of jobs to do before the winter so get outside and enjoy the glorious autumn colours and savour those last few evening hours before the clocks change. Here's a list of jobs in the garden, as October is a perfect time to plant.
You can sow sweet peas under glass and lift summer flowering bulbous plants such as gladioli, canna and dahlias. Store them cool and dry over winter. Lily bulbs may be potted up or planted in borders in October and you can plant spring bulbs at the end of October into November. Tulips are better planted in November.
It will be time to cut back herbaceous perennials as they die back. Leave any seed heads for the birds. Divide herbaceous perennials and replant, collect ripe seeds and mulch borders with well-rotted manure or green waste.
In the kitchen garden you can harvest pumpkins and squashes this month. Cure them in a warm room for ten days before storing in a cool, frost free place.
Clear away old leaves from strawberries to prevent pest and diseases, plant out onion sets and plant young spring cabbage plants. Herbs such as mint can be potted on and brought inside to provide leaves through the winter. In November start pruning apple and pear trees – bare root fruit trees can also be ordered and planted from November onwards.
There's also plenty you can do in the garden for wildlife around now. Clean birdfeeders and birdbaths, to prevent spread of avian pox, and replenish food. Finish winter preparations for your garden pond, removing fallen leaves, thinning out the oxygenating plants and overhauling pumps and equipment. Leave rotting fruit on the ground as well as any perennial seed heads for birds.
Check bonfires before burning for hedgehogs and leave untidy corners of the garden for creatures to hibernate for the winter.
Enjoy the coming months!
Bridget
Bridget runs Caves Folly Nurseries on Evendine Lane in Colwall (WR13 6DX). They are open from March until October, Thursdays to Saturdays from 10 - 5. You can contact them on 01684 540631 or visit their website:
www.cavesfolly.com