The Nest Recipe: Plum & Almond Slice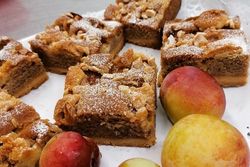 A delicious seasonal treat
Ingredients
250g cold butter
225g caster sugar
300g ground almond
140g and 25g plain flour
2 eggs
1 tsp cinnamon
1 tsp baking powder
around 6 plums, stoned and cut into 1/6ths
50g flaked almonds
Method
Heat oven to 160°C/fan, 180°C/gas 4. Butter and line a 20x30cm tin with baking paper. Put the butter, sugar and ground almonds into a food processor and pulse to a rough breadcrumb texture. Spoon 1/2 this mix into a bowl and set aside.
Add 140g flour into the mix left in the processor and whizz till it forms a dough. Tip into the lined tin and press down with the back of a spoon, Bake for 15-20 mins until golden brown. Leave to cool.
Put the reserved mix back into the processor (save a few tsps for the topping). Add the eggs, the 25g of flour, cinnamon and baking powder and whizz to a soft batter, spread over the base.
Top with the plums, a little extra caster sugar and cinnamon. Bake for 20 mins then sprinkle with flaked almonds and the saved crumble mix.
Bake for a further 20 mins. Leave to cool.
This recipe was kindly provided by Neil from The Nest near Ledbury, a family friendly Deli Cafe serving local and artisan produce.
You can find The Nest on the Hereford Road, a few miles outside Ledbury.