Green Fingers in Spring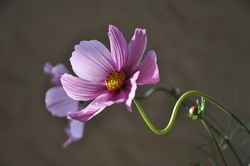 Down at Caves Folly in Colwall, Bridget is assessing the damage done by a wet and windy winter
After such a long and wet winter, the sheer exuberance of spring is just what we need at the moment and can be a balm to the soul.
It is lovely to be surrounded by so many beautiful plants and colour after such a grey winter. Sadly, many plants suffered in the very wet conditions and will have rotted away completely or will have damaged roots. All is not lost - plants such as lavenders that look damaged may recover as the days get longer and warmer.
Alpine plants that grow in crevices such as Sedums and Sempervivum may have rotted in the middle. Dig them up and take out any dead and replant with plenty of gravel around the base. Many older plants in the garden that look weather-beaten or have been allowed to get too large can be pruned hard to stimulate new growth. Remember to prune shrubs after they have flowered. If you are nervous about this, just prune half and see what happens!
Summer flowering herbaceous border plants such as Hosta, Heleniums and Rudbeckia can still be dug up and divided if necessary. Make sure that tall perennials are staked now, push tree twigs in at the base of the plants to give a camouflaged support for when the plants grow taller.
When the garden has been spring-cleaned, finish the borders off with a mulch of compost or soil conditioner. This will increase soil fertility, help with weed control and encourage beneficial soil organisms.
This is a busy time of year in the garden, so plan your sowing dates and make a list of priority jobs - Mother Nature soon has a way of taking over! Many annual seeds such as Cosmos, Nigella, Cornflower and others can be sown directly now that the soil has warmed up.
Young plants raised from seed for the vegetable garden can be planted out and seeds such as beetroot, carrot, lettuce, salad leaves, leeks, radish, spring onions, peas and perpetual spinach can be sown directly.
Plant tomatoes, peppers, and cucumbers into bigger pots and keep an eye out for pests such as aphids - be vigilant and tackle them when you see them. You can buy soap-based sprays and other biological controls, give me a call if you'd like more information.
When you have done all the hard work, take the time to stand and enjoy the garden with all your senses. Close your eyes and breathe in the scents of the earth and the plants growing. Listen to the insects and birds, absorb the intricacy of individual plants and flowers and relax for a few minutes. And carry on feeding the birds, they use up lots of energy mating!
Bridget
Bridget runs Caves Folly Nurseries on Evendine Lane in Colwall (WR13 6DX).
www.cavesfolly.com