Our Lizzy's Recipe: Spicy Chick Peas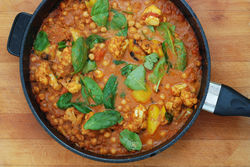 A quick easy meal using store cupboard spices. A handful of fresh or frozen spinach, cauliflower or green beans makes it even healthier
Ready in 20 minutes | Serves 4
INGREDIENTS
1 onion, chopped
1 yellow pepper chopped
1 clove garlic crushed
1 tin of chopped tomatoes
1 tin chick peas, rinsed & drained
1/2 teaspoon turmeric
1 teaspoon ground ginger
1 teaspoon ground cumin
2 teaspoons ground coriander
chunk of creamed coconut (approx 25g)
1 tablespoon oil
METHOD
Place onion and pepper in a pan, sauté in water or oil.
Add the garlic, add spices and cook for two minutes, stirring constantly (add a little water if sticking).
Add the cooked chick peas, tomatoes and a little water if needed.
Bring to the boil, add the creamed coconut and simmer for at least 10 minutes.
Serve with rice or pitta bread.
For details of cookery classes see www.ourlizzy.com or contact Lizzy on 01684 892 688. Lizzy also offers tailor made cookery sessions