Community Action Malvern update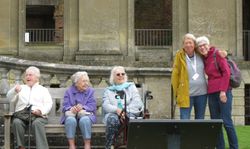 Community Action continues to work hard during these strange times. The charity, which celebrates its 50th birthday next year has diversified from its usual work stream in an effort to continue to help isolated members of our local community.
Since the lockdown they have been busy shopping for clients who have had to shield, also collecting prescriptions, and even dog walking. These include new and existing clients who have been introduced to a volunteer initially and then they have proceeded to arrange subsequent trips between themselves. This has meant that each client uses the same volunteer which has built up a friendly rapport which is so important in these socially isolated times.
They are also doing Food Bank deliveries in the minibuses and delivering vital face masks and scrubs.
However, most of their volunteers are in the shielding age and have had to temporarily cease driving. Therefore, they are very low on volunteer drivers. They need people who can drive either using their own vehicle or the minibus or wheelchair adapted vehicles. If you would be happy to help please phone Community Action on 01684 892381 and leave a message. Messages are being picked up regularly throughout each day.
Friends of Community Action will also be offering a Tea Club at home for members of Community Action Sunday Tea Club. As people can't currently come to Sunday Tea Club they will bring it to the doorstep. If you usually join in with our Tea club and would like a 'non contact' cream tea delivery please call 01684 892381 and leave a message for Aileen.
In order to do all of the above Community Action need money! Especially as their normal income streams have stopped.
If you would like to help contribute to this essential work please make cheques payable to Community Action Malvern & District and send to Community Action, Third Floor, 28-30 Belle Vue Terrace, Malvern, WR14 4PZ or you can BACS money quoting reference 'DONATION' to sort code 40-31-09 Account Number 71876821.
Community Action Malvern are also crowd funding - donate online via this link: www.spacehive.com/community-action-malvern
Any help would be very much appreciated!