Our Lizzy Recipe: Spice up your Sausages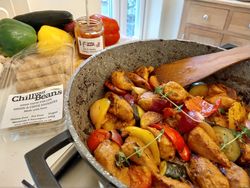 It's lovely to shop at Great Malvern Farmers Market. As a result Lizzy cooked locally made vegan sausages with vegetables, herbs and spicy chutney!
Serves 4 - Ready in 20 minutes
INGREDIENTS
1 pack of sausages
1 onion
2 peppers
1 courgette
2 tablespoons tomato chutney
sprig of thyme
salt and pepper to taste
1 tablespoon rapeseed oil
METHOD
1. Cut the vegetables and sausages into slices.
2. Heat the oil in a pan, add the sausages and vegetables. Cook until golden brown.
3. Add the chutney and thyme, stir well, add a little water if needed.
4. Cook for a few minutes more.
Lizzy used Chill Your Beans vegan sausages, also available at The Bran Tub.
For details of cookery classes see www.ourlizzy.com or contact Lizzy on 01684 892 688. Lizzy also offers tailor made cookery sessions