All About Malvern's Marvellous Trees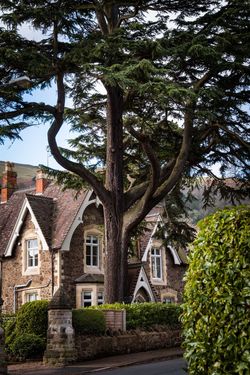 A project is underway to celebrate Great Malvern's many veteran and exotic trees. Some of the trees arrived here from the four corners of the globe during the Victorian era and Mike Goodfellow-Smith from Malvern's Marvellous Trees tells us more.
What is Malvern's Marvellous Trees?
When I moved to Malvern around ten years ago, I fell in love with the area's trees, which are so much a part of the town. I became involved as Chair of Malvern Community Forest and within that group was Dudley Brook. Known affectionately as the 'tree man', Dudley had drawn up a couple of walks taking in some of the town centre's many notable trees. I suggested bringing his walks up to date in a new leaflet; he was in agreement and lent me his notes.
The result is four new routes, outlined in printed guides with a map, beautiful photography and the stories of several local trees, including details of the people who planted them, the various uses wood has been put to and a little on the ecology associated with the trees. You can pick up a guide from the Tourist Information office, Malvern Book Co-operative or the Priory Bookshop and of course our website (see below). These regularly sell out and we have had orders from as far afield as Finland!
Why does Malvern have so many amazing trees?
The town of Great Malvern was originally divided into building plots on land owned by Lady Foley and a few others. Each plot was required to have a boundary hedge as well as at least two trees. The result is that Malvern still has some exceptional and unique hedges as well as trees dating from the Victorian expansion of the town. Competition began between house owners to plant the most impressive trees, purchased from nurseries in London and Edinburgh which sponsored plant hunters to bring back seeds from remote areas of the globe. Once the trees were ready, they were brought to Malvern and a party was thrown for their planting. Many of those trees have survived into modern times but they are under stress as they are not in their natural environment. There is a real risk that soon we will lose many of them.
How will Malvern's Marvellous Trees help?
In the first instance we hope to raise awareness and appreciation of these incredible trees. Secondly, we hope to recruit a number of volunteers to help us plot the location and viability of all the area's trees, before asking the wider public for support to maintain and care for these trees. In the longer term we would like to begin a process of replanting if the old trees need replacing.
Do you have a favourite tree?
It's a difficult choice but in Priory Park there is a magnificent Lebanon Cedar (Cedrus libani) which must be among the best examples in the UK. Adjacent to this is a Holm Oak (Quercus ilex) with some massive internalised fungal brackets and there is also a copper beech (Fagus sylvatica purpurea) which extends to an incredible height.
HOW TO GET INVOLVED
We are starting our guided walks now in a safe manner or you can enjoy a self-guided walk by purchasing one of the guides. If you'd like further information then call 07966 283280 or email mike@malvernsmarvelloustrees.org
www.malvernsmarvelloustrees.org