Our Lizzy's Recipe: Autumn Risotto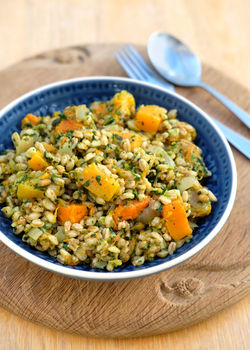 A lovely warming risotto making use of brightly coloured pumpkin or squash. Cooked with local cider.
Serves 2 - Ready in 30 minutes
INGREDIENTS
1 litre of vegetable stock
3 tablespoons rapeseed oil
1 onion finely chopped
2 handfuls of butternut squash or pumpkin cubed
2 cloves of garlic crushed
250g pearled spelt
Large glass of dry cider
Pinch of ground turmeric
2 handfuls of spinach
Salt and black pepper to taste
METHOD
Make the stock, and then place pan on a low heat. Heat the oil in a large pan. Sauté the butternut squash until it starts to brown. Add the onion and garlic, cook briefly.
Add the spelt and a pinch of turmeric and stir until coated in oil, and then add the cider and cook for five minutes.
Add two ladlefuls of stock and stir. Place a lid on top and cook on a medium heat, check and stir every five minutes, adding more stock as required. The spelt will take about 20 minutes to cook.
When the spelt is cooked, add the spinach.
Remove the pan from the heat, and season with salt and pepper.
For details of cookery classes see www.ourlizzy.com
or contact Lizzy on 01684 892 688