Our Lizzy's Recipe: Chestnut and Mushroom Strudel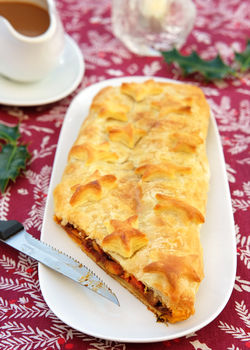 An all time favourite here at Our Lizzy! It slices well and is delicious served with homemade gravy. Using vacuum packed chestnuts and supermarket puff pastry makes this an easy dish to prepare.
INGREDIENTS
1 tablespoon oil
150g mushrooms, sliced
180g pack chestnuts, sliced
1 onion, chopped
2 cloves garlic, crushed
75ml white wine (approx)
1 teaspoon tomato puree
1 teaspoon dried thyme
salt and pepper to taste
320g pack of ready rolled
puff pastry (Jus Rol)
soya/oat milk to glaze
METHOD
Preheat oven to 220°C/Gas mark 7.
Heat the oil in a pan, add the sliced mushrooms and cook for five minutes.
Add the sliced chestnuts, onion and garlic and cook until the onion is soft.
Then add the tomato puree, wine, herbs and seasoning. Add a little water if needed.
Simmer for a further five minutes. Season and allow to cool.
Place the pastry on a lined baking tray. Trim a thin strip off each end to roll out for decoration.
Spread the cooled mixture on half of the pastry and fold the pastry over to cover the mixture. Seal the edges, brush with milk and decorate with pastry strips or star shapes.
Bake for 30 minutes until golden.
For details of cookery classes see www.ourlizzy.com or contact Lizzy on 01684 892 688. Lizzy also offers tailor made cookery sessions.