Walk & Talk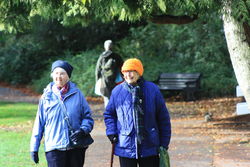 Did lockdown leave you lonely and feeling run-down?
Walk and Talk might be just the thing you need! Taking place every Monday morning in Worcester, it's an informal social exercise group for people aged 60 and over. It's run by Tom Howard from Active Herefordshire and Worcestershire, who tells us more.
What happens at a Walk and Talk session?
We meet every Monday morning at the Bowls Club in Cripplegate Park. Once you've signed in you follow a simple walking route which takes in the bowling greens and the wider park.
After that, you can walk as little or as much as you want. Some people start with just a few metres and slowly build it up. There's no walk leader and no pressure to keep up or hit distant targets, it's all about finding a level that suits you.
The other important part of the morning is the enjoyment of walking with others. Chatting with someone as you walk passes the time and helps you walk further, its also reassuring if you are worried about starting exercise again.
Does taking part improve your health?
Without a doubt. We were recently joined by a gentleman who'd had a stroke. For the first week he very slowly managed a single lap of the bowling green. He's now up to three rounds, walking faster, and ready to achieve more. Another woman who had spent time in hospital started by only walking 50 metres. She's now walking entire laps of the park which is fantastic to see.
Our group is specifically aimed at the fitness of older people and we are battling the stereotype that exercise and activity are only for younger people. Just because you are over sixty doesn't mean you have to stop.
This is especially important at the moment as many people found their fitness went downhill during lockdown - this is a great way to get it re-started in the supportive company of others.
Each person taking part has their own mile card which is filled every week to keep track of what they've achieved. As they progress there are rewards such as a water bottle, travel mug or T-Shirt, with even better prizes the further they walk.
Do you get good feedback?
Since we re-started following lockdown, so many people have said to us it's a real lifeline for them. They really enjoy getting out each week to walk and meet others in a safe environment. We think it's the social part of the morning that people enjoy every bit as much as the buzz that being outside and exercising brings.
New members are always welcome, we meet every Monday from 10am to 11.30am and there's no hard and fast rules about what time to turn up, just come when you're ready.
To find out more, do get in touch with me via my office on (01905) 542260 or the mobile phone which is 07786 028789. Alternatively drop me an email and I can tell you more: t.howard@worc.ac.uk