All About the Beacon Camera Club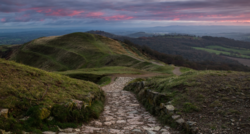 The Beacon Camera Club has an active programme of gatherings and talks, all of which currently take place online. It's a way for local photographers to stay in touch and share some inspiration. Martin Pocock who's a member tells us more.
What has the club been up to this year?
We have a huge programme with more than 120 evenings every year, covering a multitude of photographic genres and interests. In normal times we meet at Malvern Vale Community Centre, but during these strange times we hold our meetings by video conferencing. Its well organised and up to 70 people join at a time.
Our main meeting is every Thursday evening, at which quality presentations enlighten us with a wide range of subject matter as well as competitions, practical events and critique evenings.
We also run a host of special interest groups meeting on other nights. There is something for everyone whether that's nature and wildlife, or taking portraits, street photography or the audio-visual group. Our Beginners and Improvers monthly meetings provides a comprehensive course covering all aspect of photography and is designed for those who have little or no photography experience.
We're also fortunate to be joined by professional photographers from the UK and further afield. Recent meetings on the Zoom platform have included presentations by Joe Cornish and Guy Edwardes, two of the UK's most outstanding photographers.
What's the purpose of the club?
We are a registered charity and our stated aim is to 'aid and educate the public in the technology and art of photography'. We pride ourselves in being efficient in the running of the club and our offering of facilities to the public and our members.
We are an active club with approximately 120 members and we are fortunate to have many very talented photographers within the membership. There are presently 19 members who have become either Licentiates, Associates or Fellows of the Royal Photographic Society.
We are looking to raise the profile of the club by displaying members photographs in various locations around Malvern. We are currently mounting an exhibition in Church Walk by Waitrose and at a few other pubs and cafés in the town. We are also working with Worcestershire County Council on a project providing photographs of retired folk making a difference in society, which is the kind of project that benefits the community as well as the club.
Can anybody join?
Absolutely! Everybody can participate in photography and in club activities at a level that suits the individual. As well as meetings currently held online, we occasionally visit locations in small groups to take photographs, which is a great way to expand your abilities and to build a portfolio.
The club has some very knowledgeable photographers who are more than willing to share their knowledge and help others. Its a very friendly club and as a more junior member I have always found it to be very supportive.