Roots Recipe: Poached Pears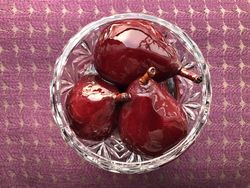 From the Kitchen at Roots
A super simple but elegant recipe that is perfect for the Christmas entertaining season. Pears once poached will keep for several days in a sealed container in the fridge and are then ready to serve at the drop of a hat, or perhaps that should that be at the pop of a Christmas cracker! Fat, sweet 'Comice' pears are the best variety for this dessert.
INGREDIENTS
4 'Comice' Pears
Half a pint of red wine
50g caster sugar
Cinnamon to taste
Half a dessert spoon of arrowrootPour the wine, sugar and spices into a wide saucepan.
Carefully pare the skin from the fruit, a good, sharp vegetable peeler will do the job. Then take a small slice from the bottom of each pear so that it will sit upright for serving.
Carefully lay the pears in the saucepan of liquor and slowly bring to simmering point. You will need to turn the fruit over now and again to achieve an even poach. This will take 30-40 minutes. Lift the fruit carefully from the poaching syrup. Mix the arrowroot with a little water to make a paste, then whisk this into the poaching syrup and continue to whisk whilst bringing the syrup back to simmering point. The syrup will thicken slightly to a glossy sauce which once cool can be poured over the fruit in a serving bowl.
Crème fraiche or good vanilla ice cream make a great accompaniment.
Kindly provided by Meg of Roots Family Farm Shop at Rushwick on the Bransford Road - 01905 421104