Roots Flowers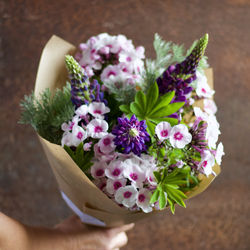 Spring is in the air and it's all go at Roots in Rushwick!
Based just outside Worcester, Roots is known for its well-stocked farm shop and food box deliveries, but in recent years they have expanded to include freshly cut flowers, grown on the farm.
'As consumers, we've become ever-more aware of how and where food is produced' says Meg Edmonds from Roots, 'and consumers are now asking the same questions about flowers. An ever-growing number of people want to buy flowers that weren't grown thousands of miles away, that are grown in season and are local.'
As demand grows for flowers, so too does the amount of space needed to grow them. 'If a corner of land comes free on the farm, I'm using it!' laughs Meg. 'We have four polytunnels and a large glass house and almost half of the space is now given over to flowers. We also plant a large flower garden at the front of the shop, which is a lovely opportunity for customers to see how they're grown. I see it as a kind of soul food and encourage people to walk around it. I really hope that later this year, as long as precautions are lifted, we can celebrate the summer with a flower festival in August.'
Meg recently became co-chair of Flowers from the Farm, a co-operative of British cut flower growers that began ten years ago. 'I joined in 2018 after meeting members on the Gold Medal winning Chelsea Show exhibition stand and feeling an immediate connection with the passion they showed for British cut flowers' says Meg. 'I signed up straightaway and found friends here in the West Midlands. With new friends in my region and beyond I threw myself into the first Flower Farmers Big Weekend and thoroughly enjoyed the camaraderie that this brought, let alone the opportunity to shout from the rooftops about British seasonal flowers.'
Growing with the changing seasons allows Roots to provide customers with weekly wraps and bouquets. Beyond this, Meg has focussed on providing individual, bespoke funeral flowers, created in the moment using fresh and dried flowers as well as foliage from the farm. 'Because I'm passionate about providing the highest quality flowers' she says, 'if people order in advance I can cut them fresh and so customers receive them in the best possible condition.'
WHAT IS FLOWERS FROM THE FARM?
A co-operative supporting British growers of cut flowers, with more than 1,000 active members from Cornwall to Inverness. They began in 2011 and represent everyone from micro-businesses on allotments to farmers using six acres or more.
According to Flowers from the Farm, 90 percent of the flowers sold through UK florists, supermarkets and wholesales are imported not just from the Netherlands but are also flown from as far away as East Africa and South America. They aim to reduce travel miles by promoting locally-grown flowers and developing a network of British cut flower growers.