The Cripplegate Bowling Consortium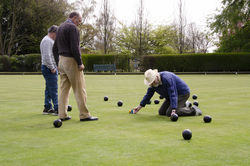 With three large playing surfaces in the heart of St Johns, the Cripplegate Bowling Consortium offers a warm welcome to new members. With a mix of social and competitive games, there's something for everyone as the club's Chairman Roy Turner explains.
Why do people take up bowls?
For all sorts of reasons! It's a very enjoyable game whatever level you play, even as a complete beginner and very social as well. This is a very friendly place to learn, and you will find willing help from members who can show you how it all works.
Some people who play have have been involved in the game their entire lives while others come to it later in life. We have members who play competitively and there are games against other local clubs through the week and at weekends.
Others are casual players who come along to mingle, chat with others and have a laugh. It's a very social place and in the spring and summer a lovely way to spend a morning or an afternoon. You are always welcome to turn up for a game, it costs £5 per session and all equipment can be provided.
Tell us about the consortium
We have excellent facilities in Cripplegate Park with a choice of three greens and a large club house.
Within our consortium are four clubs who meet here, which according to Bowls UK makes us unique in the whole of the UK. The choice means you will find a club to suit you, whether that's County Ground, Worcester Ladies, Grosvenor, or Worcester Brotherhood. I suggest coming along to the club, meeting the members, and deciding which is best for you.
The greens are immaculately maintained which is a highly specialised job overseen by two of our members. They are truly a pleasure to play on.
When does play normally take place?
The season opens in April and runs through to the end of September. We are open every day from 11am, with competitive games sometimes taking place in the evenings. On Tuesday evenings we play in the Worcester Triples League when we host matches against other clubs from around the city.
During winter months we normally play short mat bowls in the pavilion and before Covid came along we also ran social events, something we hope can re-start again at some point in the future.
How can people find out more?
The easiest way is just to turn up during the day when the club is open – pop in and meet us, we're a friendly bunch! You will find the club through a gate from Cripplegate Park, or there's a vehicle entrance from the Tybridge Street car park. Alternatively you can leave a message by calling 07957 650937 and somebody will call you back.