Green Fingers in Autumn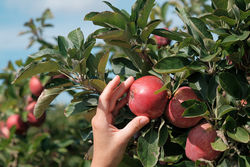 Down at Caves Folly Nursery in Colwall, Bridget is preparing the garden for the cooler weeks and months ahead.
It only seems like yesterday I was writing about spring. Where has the summer gone?
We have had a busy time here at the nursery on Colwall Green, with holidaymakers and gardeners all enthusiastic to make the most of re-found freedom and gardening interests respectively.
Autumn is a beautiful time of year and there is always a sense of urgency to savour each day before the onset of winter. There are endless beautiful arboretums to visit as well as National Trust properties. Nearer to home, a walk up the British camp (or Bridget's Camp, as a three year-old friend calls it) allows us to view Herefordshire as all the trees change colour.
In October, divide plants and prepare for cooler months. Some simple tasks now will keep your garden looking good and productive well into winter. The next couple of months are a good time to move and plant trees and shrubs, when the soil is moist.
In the Ornamental Garden, it's time to prepare pots with good drainage for the wetter weather ahead. Think about planting early in October with winter colour and early bulbs.
Divide large clumps of perennials and lift tender corms and bulbs such as Gladiolus and Dahlias. Store them in a dry, frost free place.
Mulch in November for winter protection. Plant winter flowering plants such as heathers, hellebore, winter flowering shrubs and bulbs, that will provide pollen for early pollinators.
In the kitchen garden, any main crop potatoes left can be harvested and stored. Continue to harvest apples, pears and grapes, either storing or using to make juice.
You can plant out spring cabbage and propagate fruit bushes such as gooseberries, currants by hardwood cuttings. Add mulch such as green waste or manure to the soil over the next few months. Collect deciduous leaves and make leaf mould that can be used as a mulch, soil conditioner or as an ingredient for potting compost.
Winter can be a tough time for wildlife, but don't forget that encouraging birds to the garden can help with pest control. Provide a variety of feeders and water. Windfall apples also provide good meals for fieldfares, blackbirds and redwings.
If you have a pond, make sure you remove decaying leaves at regular intervals. If you do decide to have a bonfire, make sure there are no hedgehogs using it to hibernate.
Enjoy October and November and make the most of autumn!
Bridget
Bridget runs Caves Folly Nurseries on Evendine Lane in Colwall (WR13 6DX). They are open from March until October, Thursdays to Saturdays from 10 - 5.
You can contact them on 01684 540631 or visit their website:
www.cavesfolly.com