Our Lizy's Recipe: Pan Roasted Sausages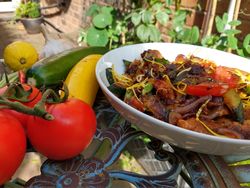 Serves 2 | Ready in 30 minutes
A great way to cook garden produce.
Lizzy uses locally made vegan sausages and marmalade with the vegetables.
INGREDIENTS
1 courgette
1 onion
4 tomatoes
3 cloves garlic, sliced or crushed
4 sausages
2 tablespoons orange marmalade
tin cannellini beans rinsed and drained
handful fresh garden herbs
salt and black pepper to taste
zest of 1/2 a lemon
1 red chilli, chopped
squeeze of lemon juice for drizzling
a tablespoon of oil for cooking
METHOD
1. Finely slice the vegetables and sausages.
2. Heat a little oil a heavy pan then roast the vegetables until lightly charred. Add the garlic slices and the sausages. Cook until the sausages are browned and cooked through.
3. Add the orange marmalade and stir to coat the vegetable mixture and add a little water.
4. Add the tomatoes, chilli, chopped herbs, and lemon zest.
5. Drizzle with fresh lemon juice before serving.
Good served on sourdough bread or with jacket potatoes.
For details of cookery classes see www.ourlizzy.com or contact Lizzy on 01684 892 688. Lizzy also offers tailor made cookery sessions.