Powick Community Choir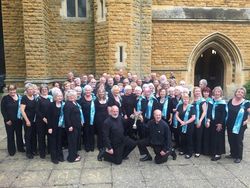 After being unable to meet for rehearsals or perform in public for more than 18 months, the Powick Community Choir is back together. This popular and successful choir currently has an opening for new members and here they tell us more about their music-making.
The Malvern Hills and the beautiful surrounding area have inspired many musicians over the years- from Elgar to Nigel Kennedy and many more. From classical to jazz, folk to rock, it's all here.
The English choral tradition is alive and kicking with the area boasting many choirs. However, during the last eighteen months the Government's Covid restrictions have meant that no-one has been able to meet to sing in a group. Music making is well known for being an emotional release and to relieve stress. It is sorely needed by both performers and audiences after the lockdowns and isolation. Now singing is beginning again.
The Powick Community Choir is now ready to re-start. We are led by Tom Wells, the local councillor for Powick, who has been our musical director and composer in residence for over eleven years. He regularly writes original works for the choir to sing. Tom started his career as a chorister at Worcester Cathedral and by the age of sixteen was a Church organist and choir master. For many years he was Director of Music at Hillstone School, Malvern.
Our choir has an excellent reputation and in 2018 was awarded the Most Outstanding Choir award at the Upton Choir Festival. We are now looking for enthusiast singers to join. There is no audition, but potential members should have some experience, however long ago, and if possible, be able to read music. Give Tom a call on (01905) 831752 to discuss coming to a rehearsal or two. Not only do we make fantastic music, the choir is also a place to forge lasting friendships. Members are drawn from the Greater Malvern area and surrounding villages.
The choir performs regularly and has held concerts at Malvern Priory, Malvern Theatres, Pershore Abbey and many other venues in the past. Our choir chairman, Catherine Pritchard, says the highlight for Powick Choir and audiences alike is the annual series of six concerts held in the run up to Christmas in the atmospheric chapel at the Stanbrook Abbey Hotel. The choir is accompanied by an outstanding professional chamber orchestra and pianist for these events. The programme is varied and consists of new and old pieces, some sacred, some secular, but chosen specially to provide a balanced and enjoyable evening's music.
The Christmas concert season is booked to take place this year from 12th to 15th December at Stanbrook Abbey. These events are always sell-out occasions. Tickets will be advertised locally and available from the choir's website, with a proportion of the proceeds going to nominated charities.
If you think that singing in a local choir is for you and to make this a very special Christmas please visit the choir's website for more information, contact details and to listen to the choir singing.