Roots Autumn Apple Cake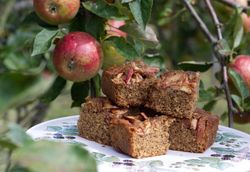 A delicious recipe from Meg in the kitchen at Roots
This recipe is particularly suited to windfall fruit. It's tasty, healthy (made with wholegrain) and ideal for lunchboxes, coffee mornings or desserts. It also freezes brilliantly. Indeed, I like to make the recipe in a 'traybake' tin format approx. 30cm x 20cm (although it would also work in a 2lb loaf tin) because I then portion some for all of the above occasions.
INGREDIENTS
300g Butter
110g Light muscovado sugar
110g Golden caster sugar
150g Ground almonds or toasted and chopped hazelnuts
6 Eggs
225g Wholemeal flour
3tsp Baking powder
1tsp Ground cinnamon
Pinch Salt
6 Medium apples sliced (no need to peel), tossed in demerara sugar and cinnamon to top the cake before baking.
METHOD
Preheat the oven to 150°C. Line the cake tin with silicone paper for easy release!
Cream together the butter, muscovado and caster sugars until light and fluffy.
Mix the flour, almonds/hazelnuts, baking powder, cinnamon and salt together to ensure the raising agent is dispersed. Add the eggs and dry ingredients to the creamed butter in stages, ensuring the cake batter is evenly mixed.
Tip the cake batter into the baking tin and spread evenly. Top the cake with a layer of thinly sliced apples, tossed in the sugar and cinnamon mix before baking for approx. 50 minutes – 1 hour.
The cake will be risen and firm but springy to touch when baked.
Remove from the oven and allow to cool. Delicious served warm or cold with a dollop of crème fraiche.
This recipe is one of Meg's family recipes for you to use and share with your family. If you have any queries, please do not hesitate to contact us. All our details are on our website:
www.familyfarmshop.co.uk