Roots Mince Pies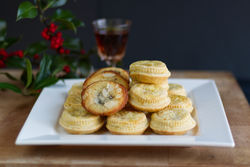 This recipe recipe makes 12 traditional mince pies and 12 frangipane mince pies.
INGREDIENTS
350g Plain Flour
150g Butter
1 large Orange, zest and juice
A little cold water
700g Mincemeat
Frangipane
50g Butter
50g Caster sugar
2 Eggs
50g Ground Almonds
METHOD
Begin by weighing the pastry ingredients. Cube the cold butter into the flour and rub in with your fingertips until the mixture resembles breadcrumbs. Add the orange zest and then the orange juice. Bring the dough together, you may need a splash of cold water if the mix seems dry. Shape the dough into a flattened circle and wrap in clingfilm then refrigerate allowing the dough to rest for 30 minutes.
While the dough is resting, make the frangipane by beating together the butter and sugar until light and creamy. Add the eggs gradually beating them into the mixture and finally fold in the ground almonds.
Pre-heat the oven to 180°C. Prepare the mince pie tins lightly greasing each indent, I use the paper from around the butter pat to coat each dimple.
Roll out the pastry on a lightly floured worktop. Carefully cut the discs, one larger for the base, one smaller for the top, cutting as closely together as you can to use as much pastry as possible in one 'rolling'. Gently lay the bases in the greased mince pie tin. Use a teaspoon to measure mincemeat into each base taking care to drop centrally into each one.
To make a lidded mince pie pick up the lid in one hand and wash with milk using a pastry brush. Lay the lid over the mincemeat (milked side down) and quickly seal with a gentle press to either side. Now wash the top of the pie with milk and use a fork to pierce steam holes in the lid. Or drop a teaspoon of the frangipane mix on top of the tart. Add a few sliced almonds for decoration if you like.
Bake the mince pies in the oven for 15 minutes. They are ready when they are just starting to colour. Carefully loosen from the tin while warm and leave to cool on a rack. Repeat the above for a second batch, you always need more than you think!
This recipe is one of Meg's family recipes for you to use and share with your family. If you have any queries, please do not hesitate to contact us. All our details are on our website:
www.familyfarmshop.co.uk