Ledbury Foodbank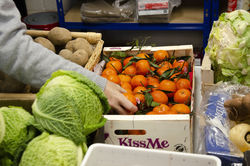 The foodbank in Ledbury has a new home. After several successful years at St Katherine's Hall, the charity has just moved to premises on the Homend Trading Estate near the railway station in Ledbury. Mark Lister who helps to run it tells us more.
Why the move?
Since the start of the pandemic, the number of people we help has almost doubled, so it was time to find larger, purpose-built premises for our work.
When we started nine years ago, we used a room upstairs in St Katherine's Hall to keep our stock. We shared the hall with other groups and so occasionally other bookings affected our work. There was also a lot of running up and downstairs, especially when people arrived with a shopping list and our team would gather the orders to bring back down.
Why have numbers of clients nearly doubled?
The furlough system during the pandemic was one reason because many people were having to get by on 80 percent of their salary. As well as this, the recent removal of the £20 uplift to Universal Credit, coupled with price inflation in the shops and rising heating costs, are hitting some people very hard. If you on a limited income, things are getting tougher and tougher.
Has the new move gone smoothly?
It has. Our new premises have everything on one level and we have a kitchen space that allows visitors to stay for breakfast. There's also an office where two members of our team can carry out assessments for people and help them with advice. We can signpost people to other help such as grants to help with winter heating, we also have a contract with Malvern Citizens Advice Bureau to deliver Universal Credit advice.
How do you manage to fund your service?
We are always looking for grants that we can apply for, to continue our work. We have a large numbers of regular donors and other organisations and local companies give us one-off donations. We are very fortunate to have people so willing to support our work, but of course the need only seems to be increasing; the demand on our service is much greater than two years ago.
We are run entirely by volunteers and have no paid staff. We have around 50 volunteers which includes a lead team who are responsible for the day to day running of the food bank and there is a Board of Trustees who run the charity.
Volunteers come in on Tuesday morning when food is delivered, there are donations to sort from people shopping at Tesco, One Stop and the Co-op. Volunteers also come in on Wednesday and Friday to pack clients' shopping.
We are open every Wednesday and Friday and the new premises is easy to find, you simply turn into the trading estate by the railway station and we are immediately on the left hand side.