Malvern Joggers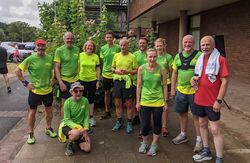 More people than ever have joined the Malvern Joggers recently. With a membership now more than 230 people, they have a new meeting place on Wednesdays. Paul Newman tells us more.
What's the secret of the Joggers' success?
We're a friendly group of local people who welcome runners of all abilities, from complete beginner onwards. Of course, this is a time of year is often when people decide to start something for the new year and we had so much demand for our 'Couch to 5k' course that we started a second group. In one day alone, we had 30 enquiries!
When do you meet?
We meet every Wednesday, running in small groups that are organised according to your pace. We've decided to limit group numbers to 10 people and some of the groups include people training for half and full marathons, progression groups for those moving from 5k to 10k, and so on.
We use Malvern Rugby Club as our winter base and they have been very accommodating, allowing us the use of the club house and bar.
What's the background to the Joggers?
We have been in existence for almost 20 years and were formed by a group of runners, who wanted to exercise with other like-minded people. Since 2009 we have run a 10k event every summer, and last year our Castlemorton 10k raised £1,500 for St Richard's Hospice.
Fundraising for charity is a big part of what we do, and Jon Gray who is a member of the Joggers has been fundraising through a book he has written. Deadline is a spy thriller, and Jon kindly donated £10 to for every book sold to our members, that will be given to the hospice, raising a total of £310 (you can read more at www.jongrayauthor.com).
About Malvern Joggers
Membership costs £25 per year which includes individual registration with England Athletics. There are weekly runs, free Bootcamp sessions, a library of running routes you can access, and much more. You will receive support with your running whatever your plans and you can join members of the Joggers who run in other events. These include the Muddy Woody and Bourton 10k in February and the Rhayader Round the Lakes in March.
If you'd like to find out more, Malvern Joggers has an active facebook page, or you can get in touch with them via their website
malvernjoggers.co.uk