Green Fingers in Spring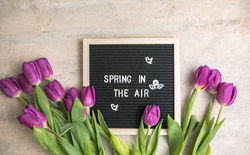 Down at Caves Folly Nursery in Colwall, Bridget is looking forward to the season ahead.
I am writing this in March, and after all my experience with growing plants, it always amazes me the speed that plants grow in April and May. It is a wonderful time of year and a taste of the abundance of summer flowers to come.
I have recently been renewing my plant passport and was pleased to hear that due to the lack of movement of plants from abroad that some diseases such as Xylella Fastidiosa (the disease that kills Olives, Lavenders, Rosemary) are now not present in the UK.
It is a busy time of year with lots of jobs to keep up with.
Ornamental Garden
Prune hardy fuchsia back to the base. Also prune Lavandula and Penstemon back to living shoots.
Prune Cornus and Salix stems back to two or three buds from the base. This will encourage new growth for lots of winter colour.
Sow sweet peas outdoors as well as hardy annuals such as nasturtiums, Sunflowers, cornflower, Nigella.
Plant out containerised plants now as the soil is warming up.
Basal cuttings of perennials can be taken now.
Plant containers and hanging baskets with summer bedding.
Cut back and shape early flowering shrubs after flowering.
Vegetable garden
Sow carrots, beetroot, cut and come again lettuce, spinach.
Plant out chitted potato tubers in April.
Sow little and often. Continue successional sowing of carrots, beetroot, spinach, radish and other salad crops.
Herbs such as Parsley, Coriander, Dill and Chervil can be sown out in May.
Weed around young plants frequently, preferably by hand at first until seedlings establish.
Mulch fruit trees and soft fruit bushes.
Wildlife
Sow patches of wildflowers or leave areas of lawn to grow.
Sow annuals in the borders to attract pollinators.
Do not cut hedges as the birds are nesting.
Keep up with the birdfeeders during spring as the birds need plenty of energy when they are nesting and rearing young.
Have a lovely April and May outdoors!
Bridget
Bridget runs Caves Folly Nurseries on Evendine Lane in Colwall (WR13 6DX). They are open from March until October, Thursdays to Saturdays from 10 - 4. You can contact them on 01684 540631 or visit their website:
www.cavesfolly.com