Our Lizzy's Recipe: One pot sausage casserole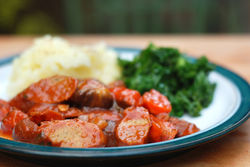 A warming casserole, which is cooked quickly on the hob. Perfect for autumn evenings.
Serves 4
Ready in 20 minutes
INGREDIENTS
1 red onion, roughly chopped
2 carrots, sliced
1 tin beans, rinsed and drained
4 cooked veggie sausages, sliced
1 tin chopped tomatoes/passata
1 teaspoon paprika/smoked paprika
black pepper to taste
1 tablespoon oil
Method:
Place sliced carrots in a pan with a little water and cook for about five minutes until soft.
Drain off any remaining water and add the oil, and the onion fry the vegetables until golden.
Add the paprika and stir briefly, add a little water if sticking.
Add the tomatoes/passata, beans and sausages with a little water if needed.
Reduce the heat to a simmer, cook for 10 minutes until the liquid is reduced.
For details of cookery classes see www.ourlizzy.com or contact Lizzy on 01684 892 688. Lizzy also offers tailor made cookery sessions.