Heartstart Malvern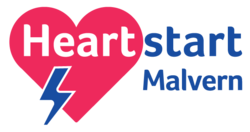 Heartstart Malvern is a small local charity whose aim is to save lives. The survival rate for someone whose heart has suddenly stopped beating is less than 10 percent. However, research has shown that if a bystander can start cardio-pulmonary resuscitation (CPR) and has access to an Automated External Defibrillator (AED), the survival rate can be as high as 50 percent. Heartstart Malvern is trying to increase the survival rate by providing free CPR training and installing AEDs throughout the town.
CPR will help keep a patient's brain cells and other vital organs oxygenated until they receive an electric shock from a defibrillator. If CPR is not started within three minutes of a patient collapsing, it is highly unlikely that they will recover. The patient also needs to be defibrillated as soon as possible after they collapse because their chance of survival will decrease by about ten percent for each minute from the moment they collapse until they are defibrillated.
Since January 2017, Heartstart Malvern has provided free CPR training including the use of an AED to almost 4,000 local residents and has installed 31 AEDs around Malvern. The charity is particularly proud of its training programme at Dyson Perrins and Hanley Castle High School, where they deliver training to whole year groups every year.
The pandemic had a significant impact on the charity's activities. During the pandemic, Heartstart Malvern had to suspend all of its training and was unable to do any fundraising. It has been necessary to modify the training slightly to allow delivery in a Covid-safe way.
Heartstart Malvern has now started training again and is appealing for local residents who have not been trained to attend one of their 90-minute training sessions. The training sessions are very informal and practical. The life-saving skills taught at the training sessions are very easy to learn. Heartstart Malvern will also travel to local groups and organisations to deliver the training too.
Before the pandemic Heartstart Malvern was training almost 1,000 people a year and would like to exceed this number in the next twelve months. This is only possible if a few more volunteers come forward to help facilitate the training sessions. No previous training or medical experience is needed to become a trainer as full training will be given. The only requirement to become a volunteer trainer is the commitment to help deliver about six sessions every year.
The charity is also keen to hear from any individuals, businesses or organisations who would like to help fundraise the £1,700 needed to help buy a defibrillator. Although the charity has made significant progress with installing AEDs in Malvern, there are still many areas where AEDs are not readily accessible in an emergency.
FIND OUT MORE
More about Heartstart Malvern, including the dates of their training sessions and different volunteer opportunities, can be found on the website or by telephoning 07926 615812. You can also keep up to date with Heartstart Malvern by following them on their Facebook page @HeartstartMalvernSavingLivesTogether
www.heartstartmalvern.org.uk