Recipe: Meg's Beef Bourguignon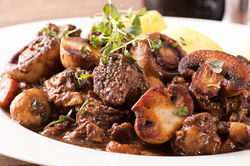 One of the greatest joys of being a foodie is sharing recipes with tweaks amongst friends. My foodie friend and customer of many years Liz was kind enough to share her recipe for Beef Bourguignon with me, replicated here for you to enjoy.
Liz spends a good part of every year in France enjoying all things culinary and we often make each other feel very hungry sharing recipe suggestions that use the seasonal produce at our farm shop Roots. It goes without saying that our organic, grass fed beef, raised on our farm in Rushwick imparts the most wonderful flavour. The wine is traditionally a Burgundy or maybe a Côte du Rhone – don't forget an opened bottle offers a glass to enjoy with your meal, ready at room temperature, when the meal is cooked.
Serves 4
INGREDIENTS
550g beef braising steak
3 tbsp seasoned flour
2 tbsp vegetable oil
1 medium onion (chopped)
12 small button onions whole
175g button mushrooms
125g unsmoked streaky bacon
225g can of tomatoes
150ml beef stock
150ml red wine
1/2 tsp dried thyme
salt & pepper to season
Sliced baguette, butter, chopped garlic and parsley
METHOD
Pre-heat oven to 170°C (Gas 3). Cut the braising beef steak into large pieces then coat in flour. Warm a little oil in a casserole dish on the hob, brown the pieces of meat. Add chopped onion, mushrooms and bacon, cook for 2-3 mins, then stir in any remaining flour.
Add tomatoes and juice, stock, wine, thyme, salt and pepper. Mix well, bring to simmer. Cover with lid and cook in oven for 1 ½ to 2 hours.
While the casserole is cooking, prepare the button onions and sauté in a little butter, reserve to one side. Finely chop garlic and parsley and mash into butter. Thinly slice the baguette and spread with the garlic butter.
After two hours check the casserole for the beef to be tender and the sauce to have reduced and thickened. Turn up the oven temperature to 200°C, stir in the button onions and lay the garlic buttered bread over the top of the meat, returning to the hot oven for a further 15 minutes to melt the butter and slightly brown the crust.
If you have a very hungry family, you could serve the bourguignon with creamy mashed potatoes, but otherwise petit pois or green beans are a delicious, light accompaniment.
This recipe is one of Meg's family recipes for you to use and share with your family. If you have any queries, please do not hesitate to contact her. All the details are on the website:
www.familyfarmshop.co.uk