Silurian Border Morris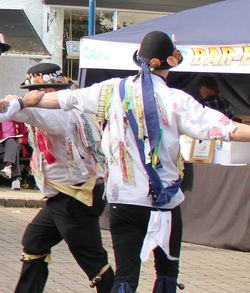 For some people, the New Year is a time to take up a new hobby, drop a bad habit or start exercising. One local morris side is suggesting you take up their pastime that involves exercise in the form of dance with sticks and handkerchiefs! Keith Close is a member of Silurian Border Morris, which is currently on the lookout for new members. Here he tells us a little more about what they get up to.
Tell us about your side
In 1969 Dave Jones started Silurian Morris, mainly performing dances from the Cotswold tradition, all the while being immersed in research into Welsh Border tradition dances, of which he knew a few. In 1979 Silurian Border Morris was launched with their new dances and kit at Bromyard Folk Festival, with the intention of keeping the tradition around Border Morris alive. Part of the original appearance of Sliurian was their very distinctive black faces, intended as the tradition went to disguise the dancers. As of Boxing Day 2021 this face colour was changed to dark green.
More than 50 years later we are still going, but our average age is creeping up and we would like to welcome new dancers and musicians (preferably with folk music experience) to join us. We are an all-male side, but there are mixed morris sides locally, so it really is a form of dance open to all.
Where do you meet?
We meet at The Talbot in Knightwick which offers us the use of a large room in which to practise. Covid lockdowns stopped us in our tracks, but as soon as we could, we began meeting outside the Talbot and so we managed to keep going.
We are planning to move our practice venue to somewhere nearer an area of population such as Malvern and are on the lookout for somewhere suitable.
How do you describe the art of morris dancing?
It's quite energetic and we use the handkerchiefs and sticks in a fairly robust way! All the dances are fairly short so there is time to recover your breath. We have some great reactions from audiences both locally and further afield. Traditionally our main dancing days have been on Boxing Day in Ledbury and for the wassail at Weston's Cider in Much Marcle which has become hugely popular in recent years. Of course, no year in our calendar would be complete without performing at the Bromyard Folk Festival, of which our founder had a main role in setting up in 1968.
Why morris?
Our members have many different reasons for taking part, but the basis of our side is to keep the local tradition alive. The Welsh border tradition had more or less disappeared before we formed. If you'd like to find out more, you are welcome to come along to The Talbot in Knightwick on Monday evenings from 8pm; we are there most weeks, but please check via the 'Contact' page on our website beforehand.