Recipe: Suki Pantal's Mushroom Matar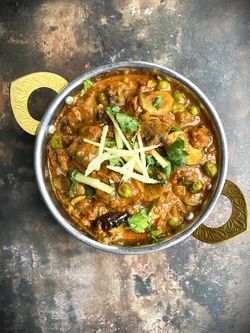 Mushroom-Matar is a staple warming Indian vegetarian dish, served in the colder months in India. Matar means peas in the Hindi language.
The combination of sweetness of peas with the savoury earthiness of mushrooms in a sweet onion and tomato base sauce is divine and is a very popular choice for vegetarians. It's served at dinner parties, in restaurants and weddings in India and is a perfect dish for vegetarians who love mushrooms.
My recipe is a family recipe and I have such fond memories of enjoying this delectable seasonal dish during winters in Delhi.
Serves 2 - 3 | Ready in 50 minutes
INGREDIENTS
250g mushrooms, washed and chopped into cubes
1 cup fresh or frozen garden peas
2 medium white onions, chopped very finely
1 tin chopped tomatoes or 4 chopped fresh tomatoes
1 tablespoon ginger and garlic paste
2-3 tbsp of oil
1-2 teaspoons butter for frying the mushrooms
1 teaspoon cumin seeds
1-2 dried red chillies (optional)
Pinch of asafoetida
Pinch of black pepper powder for mushrooms
1 teaspoon turmeric
1 teaspoon garam masala
1 teaspoon Kashmiri red powder (optional)
1 teaspoon coriander powder
1 teaspoon dried fenugreek leaves
Salt
2 tablespoon thick green yogurt
Ginger chopped into matchsticks to garnish
Bunch of fresh chopped coriander leaves to garnish
1/2 cup of water
METHOD
1. Heat some oil and butter in a non-stick pan and add the cumin seeds and dried chilli. Once the cumin sizzles, add the asafoetida. Give it a good stir.
2. Add the chopped onions and cook until they are dark golden brown.
3. Add the ginger and garlic mince and fry for a minute
4. Lower the heat, add the powdered spices except garam masala and fry for a couple of minutes with a spoon of water.
5. Add the tomatoes and cook with lid until these are mushy and you can see oil on the sides of the pan.
6. While the tomatoes are cooking, fry the mushrooms and peas in another pan with butter and black pepper and keep aside.
7. Add the yogurt on low heat to the cooked tomatoes and stir.
8. Add the mushrooms and peas, salt and half cup of water to the sauce and mix well on medium heat.
9. Cook for 4-5 minutes until you see oil on the surface.
Garnish with garam masala, coriander leaves, ginger and serve!
facebook.com/sukipantal
instagram.com/suki_curries_spices
www.sukipantal.com