Malvern Food Bank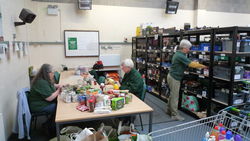 Since it began 11 years ago, the Malvern Hills Food Bank has helped many thousands of local people facing food poverty. Peter Buchanan is the Chair of Trustees and tells us how we can help to support their work.
We are an independent registered charity, affiliated to The Trussell Trust. We began in 2012 with a space at the Pentecostal Church in Malvern Link, which has since moved and become the Eden Church. We grew so quickly that some people had to help us by storing food in their homes! After another temporary move to The Grove Primary School, we moved into our current premises on Spring Lane South.
In the past year, we have helped almost 5,500 people, providing more than 2,000 food parcels to a thousand households. All our work is carried out by volunteers, but this year we employed our first member of staff. Our Operations Co-ordinator oversees our work and supports the volunteers.
There is more need than ever for our services. We see ourselves as a temporary measure for people who find themselves unable to meet their basic needs, supporting them to get out of a difficult situation. We work with other agencies including Citizens Advice, who help our clients deal with things as diverse as housing issues or financial difficulties.
People are always referred to us by other agencies and we do always make checks, to be sure the request for help is genuine. We do sometimes help out in an emergency. Last year, one of our volunteers was told about a homeless man spotted in the centre of Malvern. She took him to the Lyttelton Well Café for a meal and sorted him out with a food voucher. His gratitude for the help he received was humbling.
It goes without saying that local people are incredibly supportive, we are lucky to be based in an area as generous as Malvern! Some people support us financially, others drop items into one of our collection baskets situated in local supermarkets and shops. We also purchase about £1,000 worth of food every week.
We are open somewhere in the Malvern area every day except Sunday, from our base on the Spring Lane Trading Estate or at the Lyttelton Well Café. We also run a service in Upton-upon-Severn on four mornings each week at the Baptist Church. We deliver food parcels if individuals struggle with their mobility. We also help fund breakfast clubs at four schools, providing food at the start of the day to children who might otherwise skip their breakfast.
We do need more volunteers to help with our work. Usually, this is a morning or an afternoon's help every fortnight, but you can come in more often, or less, depending on what you can offer. Our volunteers tell us how enjoyable the work is, there's a strong social aspect to the work and great satisfaction from helping others. We need help in the warehouse, but also with office work and in greeting and helping clients when they arrive.
FIND OUT MORE
malvernhills.foodbank.org.uk
If you'd like to find out more about volunteering with us, please email us at
info@malvernhills.foodbank.org.uk, or phone 07529 322985