Malvern Food Bank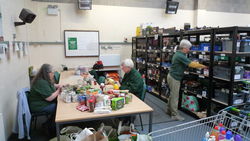 Since opening nine years ago, Malvern Hills Foodbank is busier than ever. As the staff get ready for a busy Christmas, they are taking the opportunity to thank the many people in our area who continue to help them to support clients referred to the them.
Malvern Hills Foodbank began in a small room in Malvern in 2013, gradually moving into larger premises as demand grew. Today, the foodbank operates from two units on Spring Lane South.
When the foodbank first opened, some people were surprised that a beautiful and seemingly well-off area needed a foodbank. The service was however much-needed, and since then the numbers seeking help have steadily increased. In 2017 the service helped 850 individual adults and children. By 2021 this had more than doubled to 1,750 individuals. Over the past five years they have supported over 5,000 individual adults and children.
Right from the start, local people have been hugely supportive and generous in providing donations. Requirements for food donations are listed on the website and facebook page, which invariably brings a swift response. Donations range from a child giving their pocket money, to a few tins of food from someone who was previously helped by the foodbank.
There are also donors making regular payments, Harvest Festival and Christmas appeals, as well as local businesses and organisations who all offer valuable support. Although individual thanks are given, the gratitude is immense.
Whether it's a large cash donation, a huge box of Easter Eggs or a couple of toilet rolls, the team running the project are always humbled by the thoughtfulness of every single person who helps them.
As well as local help, Malvern Hills Foodbank is supported by The Trussell Trust, an organisation that works to alleviate hunger in local communities as well as nationwide.
The Chairman of the foodbank Peter Buchanan says: "We are keen to support the Trussell Trust aims of Changing Communities, Changing Policy and Changing Minds. We would love to see a society in which foodbanks were no longer needed. However, locally and in the short term, we want to ensure that no one goes to bed hungry or cold. On behalf of all our volunteers and clients, thank you for your support.
"We would like to thank you all for how you have helped your neighbours of The Malvern Hills until now, knowing that you will be doing what you can to ease the worries and burden of people who are at risk of going hungry."
If you would like to make a donation to help the foodbank at Christmas, please do this in plenty of time ahead of 25th December, to give staff enough time to make sure festive donations reach their clients. The service on Spring Lane South is open three times a week, help is accessed through referral; please see the website for more details.
FIND OUT MORE
malvernhills.foodbank.org.uk