Friends of Laugherne Brook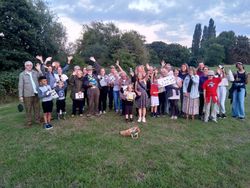 The Laugherne Brook provides an important corridor for nature along the west side of St. John's. One mile of the watercourse runs through a nature reserve that is looked after by a local group. Margaret Layland helps to organise activities for the Friends of Laugherne Brook Local Nature Reserve and tells us more about their work.
When did it start?
Back in 2009, two people living near the brook wanted to do something to look after the reserve and our group was set up. Regular meetings were held at the Copper Tops pub where the landlady was very supportive, and a small amount of money was raised to spend on wildflower planting and trees.
Many years on, our work continues in the same way. We have four official meetings a year and let people know about our work via notices posted around the reserve and on facebook.
Tell us about the reserve
Its about a mile long and runs from Oldbury Road, through Coles Meadow and on towards the Bromyard Road. There is also a small patch of the reserve off Manitoba Close at Lower Wick. It's used by lots of local people to get out for a walk and on the reserve is a lovely community feel, it's a place to meet passers-by for a chat.
The reserve is managed by the city council and with their co-operation, our group plants trees, wildlflower bulbs and seeds. Over time we are adding to the beauty of the reserve and our work supports nature. We recently put up bird boxes with help from the local RSPB group and the first great tits moved in straight away! It's not unusual to see other birds such as redpoll, siskin and fieldfares.
Some volunteers carry out regular surveys to make sure we are planting the right mix of trees and shrubs to keep wildlife happy. We hold nature events such as bat walks with Worcestershire Wildlife Trust and its amazing to see so much wildlife in the city.
What are the highlights of your work?
Chris Packham came to officially open the reserve many years ago and it's a memorable event, especially as he was such a down to earth, lovely man.
A lot of the work we complete is very satisfying as well. We've recently planted elm trees that are resistant to disease and its good to think they will be here for many years to come. Its lovely to see nature thrive as well. Areas that have been left unmown this year attracted amazing numbers of butterflies.
Everyone involved in our Friends group takes a pride in the area and in their work as volunteers, if you'd like to join us then look out for notices around the reserve or find us via this link on facebook.