Malvern Quilters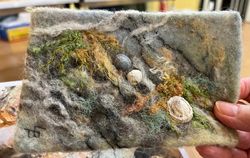 Malvern Quilters is a busy local group that gives a friendly welcome to anybody interested in quilt making. They've been meeting for more than 40 years, ever since a local quilting teacher advertised for students. Denise Strutt tells us more.
Tell us about your group
We began in 1979, which we believe makes us one of the oldest quilting groups in the country. Initially classes were run by a local teacher called Brenda Cox, who learned how to quilt from a friend in the USA. 30 people turned up and we've been going ever since.
At its most basic, quilting is about cutting and re-joining bits of fabric to make something beautiful. It is highly creative and very inclusive. Out of our current group of 30 to 40, there's a mix of skills from beginner to expert. Some if us prefer traditional quilts while others like modern designs, its entirely up to you.
When and where do you meet?
We meet every first and third Monday of the month at the Vale Community Centre. We invite speakers who might follow traditional methods, or they might be creative embroiderers. We recently welcomed Lesley Brankin, a mixed-media artist who is Malvern-based.
We visit local shows which are held at the Three Counties Showground as well as the NEC in Birmingham. It's a great place to find quilting gadgets and material.
Do you exhibit?
We hold an exhibition every second year. The first took place at the Winter Gardens in the 1980s, our next show will be in 2024. We use the events to fundraise for charity. In 2022 we raised £2,000 mainly by raffle, which had a first prize of a quilt made by members. Two charities benefitted, the Cleft Lip and Palate Association, and Leukaemia and Myeloma Research UK.
Last summer we gave ourselves some homework, to complete quilts for care leavers, in support of a group that provides young adults leaving care with a 'handmade hug' to take into their future life.
Each year we have a Christmas Party where we all bring something to eat, as well as a donation for the local food bank. An important part of our work is to recognise that not everyone is in such a fortunate position. We actively work to support the local community.
Can anyone join?
You don't have to be an expert, in fact you don't even need to have ever picked up a needle! If you are an absolute beginner, there is plenty of inspiration and learning available from speakers, mini-workshops, and other members. You can come to watch a demo or bring you own machine (if you have one) and follow along. The joy of our quilting group is that someone is always there to help if you get stuck.
You can find out more about Malvern Quilters at
malvernquilters.co.uk