Hanley Duck Pond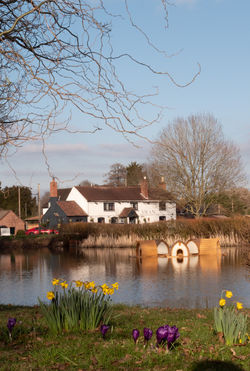 The ducks of Hanley Swan have a new home. Five duck houses have just been placed on the water after lots of hard work by local volunteers. Nick Harper is the pond warden and tells us more.
You've been busy?
We have! Last summer the pond gradually dried up, so we took the opportunity to remove over 800 tonnes of silt to improve the depth and more importantly make it safer. After consulting with the parish council, the work was completed by a team of hard-working volunteers. We decided that because the pond was empty, it was a good opportunity to replace the old duck shelters which had rotted.
A mammoth fundraising effort then took place. Thanks to the generosity of many local people we managed to place the new shelters on the pond at the end of February. They were made by one of our volunteers, Paul Davighi-Edwards at a very favourable rate. Constructed from a specialist timber product we hope they will last for many decades.
Is the job as pond warden busy?
It can be! But we have an increasing group of volunteers to spread the work around.
I must mention two previous wardens, Neil Verlander and Brian Robinson, who both managed important projects that helped to save the pond. Brian oversaw the lining of the pond with clay that helped reduce the risk of it drying out.
Around 15 years ago, Neil helped to secure the bank by reinforcing it with natural materials and clearing the surrounding area. It's only thanks to the work of previous and current volunteers that we continue to have a pond for all to enjoy.
Have any wildfowl moved in yet?
There have been some sightings of the moorhens using it. The duck population on the pond varies from just a few, up to around 30 or 40. We will see how they take to it as spring arrives!
I'm aware we have a lot of visitors to the village, including many who come to stay at the nearby Camping and Caravan Club site. Keeping the pond in good shape gives enjoyment to many people, from both near and far, perhaps something especially important at the moment. If you'd like to read more about the work to maintain the pond, take a look at our website.