Suki Pantal's Recipe: Kadai Paneer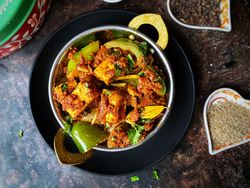 Kadai paneer is a northern Indian dish made with Indian cheese and peppers. It gets its name 'kadai' from the wide-mouthed metal vessel its cooked in. The utensil's own property reflects in the cooking time and consistency of the sauce. In a kadai, the ingredients tend to cook faster, so the cooking process is shorter.
Paneer is a mild and milky Indian cheese made from cow's milk, by curdling it with an acidic agent. The cheese goes really well with peppers and onions and this dish made in a kadai brings out the layers of flavour. It is generally served with naan bread.
Let's get started!
Serves 2-3 | Ready in 25 minutes
Medium to high spice level
INGREDIENTS
Kadai Masala Ingredients
1 and a half teaspoons cumin seeds
1 tbsp coriander seeds
1 tbsp black peppercorn
1 tbsp fennel seeds
1 to 2 dried red chillies (optional)
Dry roast the spices for one minute in a non-stick pan and then grind into a smooth powder and set aside in an airtight jar.
Other ingredients for the sauce
250g paneer, cut into cubes
3 tbsp neutral oil
1 bay leaf
1 tsp ginger-garlic mince
1 large white onion, chopped finely
1 green chilli, sliced or chopped (optional)
3 tomatoes, chopped and pureed or use 200g chopped tinned tomatoes
1/2 tsp Garam masala
1 tsp kadai masala (see above)
1 tsp coriander power
1/2 tsp turmeric powder
1/2 tsp red chilli powder
1 tsp dried fenugreek leaves
Water, few teaspoons
Salt
1 bell pepper and onion, cut into cubes
Handful of fresh coriander leaves, chopped
METHOD
Take a kadai or a wok and heat some oil in it. Once the oil is medium hot, add the bay leaf and chopped onion. Fry the onions until golden brown on medium heat
Add the ginger-garlic mince and cook for a minute
Lower the heat and add the powdered spices; turmeric, red chilli powder, coriander powder, dried fenugreek leaves and most importantly the kadai masala. Mix all the ingredients well and cook for 3-4 minutes. Add a teaspoon of water to prevent the spices from burning
Add the tomatoes, green chilli (optional) and salt and fry the mixture on medium to high heat until the raw fragrance of the tomatoes goes and the oil separates from the mixture
Add the paneer and mix well. Lower the heat and cover the kadai or wok with a lid and cook for 2-3 minutes
In a separate a pan, add the bell peppers and onion bulbs and toss it in the oil and a little kadai masala. Add these to the paneer sauce and continue to cook for another 5 minutes
Add garam masala and fresh coriander.
Serve!
facebook.com/sukipantal
instagram.com/suki_curries_spices
www.sukipantal.com