The Tudor House Museum in Upton-upon-Severn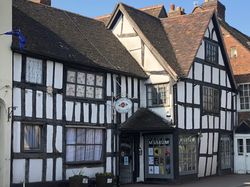 The Tudor House Museum in Upton upon Severn has re-opened, following a devastating flood at the end of last year (2022).
The problems last December were caused by a burst pipe in the attic of the medieval building, bringing down ceilings on first and ground floors. The water caused further extensive damage to cabinets, exhibits and flooring.After many months of hard work, the museum's Trustees are delighted to announce the museum re-opened on Saturday 9th July with a family-friendly event lasting all day.
Diana Scott, a trustee for the museum said; 'We are extremely grateful for all the help and support from the local Fire Service, tradesmen and the wonderful people of Upton who came to help us in our hour of need. The Trustees have taken this opportunity to redecorate, install modern LED lighting, renovate the floors and revamp some displays to welcome old and new visitors to the Museum and Garden.'
ABOUT THE MUSEUM
The Tudor House Museum and Garden in Upton-upon-Severn was founded in the 1990s by a local couple who needed somewhere to house their ever-growing collection of Staffordshire Blue pottery. Today the museum houses collections that tell the the history of Upton and the surrounding area. It is spread across three floors of the building in the centre of town, which also has a garden.
The Tudor House is a Grade 2 listed building and is an independent museum which receives no formal funding. Every penny that comes from entrance fees, donations and sales goes directly to help the trustees and volunteers keep the museum open for the education and enjoyment of future generations.
The Museum and Garden is open with free entry until the end of October on Saturdays from 10.30am to 4.30 pm and Thursdays, Fridays, Sundays and Bank Holidays from 1.30pm to 4.30pm. Donations are welcome towards the upkeep of the Museum.