Malvern Hills Volunteering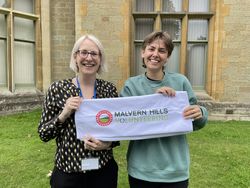 A local volunteer centre has been restarted in Malvern, overseen by the charity Community Action Malvern & District, and closely affiliated with Malvern Hills District Council.
Malvern Hills Volunteering (also known as MHV) is run by Malvern resident Liz Robinson, who has a vision for MHV to become a central hub for all things volunteering within the area. Liz grew up in Malvern, and started volunteering at 15 for a local café. She later volunteered in South Africa for 2 months after turning 18, and discovered how important volunteering was for her and for those she was helping.
After getting a degree from the University of Portsmouth, Liz realised how much she missed the communal feel of Malvern and moved back to the area. Community Action Malvern & District, a local charity that aims to reduce loneliness and isolation within the older community, was looking for someone to manage their new volunteering project, which Liz knew was a perfect opportunity for her to help reconnect people with their communities and promote the benefits of volunteering to all ages.
Fast forward six months, and MHV has become an established part of the community, helping to promote local volunteering opportunities as well as matching prospective volunteers to roles that suit them best. Liz has both attended and organised events to spread the word about MHV and the benefits of volunteering; she appeared at Malvern and Worcester Job Fairs, and planned Malvern's first Volunteer Fair. From September, MHV will be working closely with the University of Worcester to help find volunteer placements for students.
Although MHV is based in Great Malvern, it promotes volunteering opportunities from much further afield too, covering a plethora of different genres. From maintaining the gardens in Priory Park, to bell ringing in Worcester Cathedral, to mentoring a child in need, there is an appropriate role out there for everyone interested.
Volunteering can be done by anyone regardless of age, ability, experience, or location. MHV advocates how volunteering has positive impacts on both your mental and physical health in many different ways, regardless of what the role entails. It increases feelings of self-esteem, and the sense of achievement gained from helping others and experiencing that positive social connection. Physically, certain types of volunteering naturally get you moving, reducing blood pressure and keeping your body healthy.
Over the Summer, Community Action will be moving from their offices on Belle Vue Terrace to a new Malvern location; the Volunteer Centre will have a shop front and be more accessible to those wanting to discover more about volunteering. In the meantime, if you have any queries or are interested in discovering the latest volunteering opportunities available, then you can get in touch with Liz by calling (01684) 892381 or via email lizr@communityaction.org.uk