Meg's Recipe: Almond & Blueberry Torte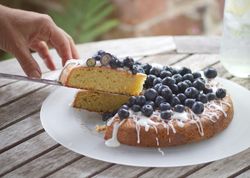 Meg's Recipe of the month...
Almond & Blueberry Torte served with Sparkling Elderflower Punch
Summer holidays are here and even though we're not planning a vacation, the pace of life here at our farm eases into a more relaxed mode when we might just take time for some morning coffee or afternoon tea. Friends pop round, the kids are happy to play outdoors and so a quick and easy to bake recipe, that can be topped with seasonal fruit, is handy to know. This cake recipe is also gluten free relying on the ground almonds to bring the cake batter together. Any summer berries are suitable to top the cake. I have chosen locally grown blueberries which I think are delicious with the elderflower glaze.
INGREDIENTS
4 Eggs, separated
200g Golden caster sugar
300g Ground almonds
100g Butter, melted
Zest of a lemon
1 tsp Vanilla extract
¼ tsp Salt
For the glaze and topping:
150g Icing sugar
Elderflower cordial
Zest and juice of a lemon
Blueberries
METHOD
Prepare a 23cm round cake tin, lining it with baking parchment and preheat the oven to 170°C.
Using an electric hand beater, combine the egg yolks and sugar until pale and creamy. Add the ground almonds, cooled melted butter, lemon zest, vanilla extract and salt, carefully combining them together with a large spoon, taking care not to overwork. In a separate bowl whisk the egg whites until they form stiff peaks. Fold in first one spoonful and then the rest, be gentle! The mixture should be quite mousse-like.
Spoon the batter into the prepared tin and bake in the middle of the oven for 45-50 minutes until firm to the touch. When baked, turn the cake out and allow to cool completely.
To prepare the glaze, place icing sugar in a bowl and add a spoonful of elderflower cordial, a splash of lemon juice and pinch of zest. Drizzle over the cake then tumble over fresh blueberries. Serve with a dollop of crème fraiche or richer clotted cream for a treat.
And as if reading my mind, I received a wonderful gift this weekend from Roots customers and friends Thomas and Katrina – homemade elderflower cordial. Rich with wonderfully perfumed pollen this is perfect for both the glaze and a refreshing summer drink, just splash into sparkling water with ice, a slice of lemon and sprig of fresh mint.
Happy holidays!
This recipe is one of Meg's family recipes for you to use and share with your family. If you have any queries, please do not hesitate to contact her.
All the details are on the website:
www.familyfarmshop.co.uk