Why a Foodbank in Malvern?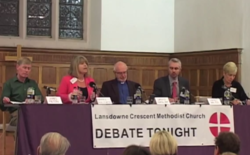 The large increase in the use of foodbanks was recently debated in Malvern at Lansdowne Crescent Methodist Church.
A gathering of well over 100 people engaged in a lively debate with a panel including senior representatives of the national Trussell Trust and the local Action for Children, and two local politicians,the Conservative MP and the Labour parliamentary candidate.
This short film of the debate from October 2014 was kindly provided to us by the Methodist Church in Malvern.