All About Hanley Voices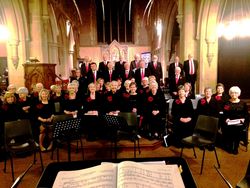 A celebration concert on Saturday 8th April marks the 25th anniversary of Hanley Voices. This local choir started under the leadership of Alan Johnston who was the Headteacher at Hanley Castle High School. Since then, it has performed countless times and helped to raise thousands of pounds for charity. Helen Astill joined the choir around ten years ago and sings in the alto section – here she tells us more.
How many members do you have?
There are nearly seventy members of the choir, some of whom have been members since it formed. Ten of our members joined quite recently. We normally perform three or four times a year with our main concert in the spring, followed by a fun get together musical event for friends and family in the summer. We sometimes have another concert in the autumn and we also perform at Hanley Castle's School Christmas service in December.
What have been some of the choir's highlights?
Over the last couple of years, we have done well at the new Upton Choir Festival for community choirs. In 2015 we won the Judge's Cup and in 2016 we won the overall competition. We also recently held a workshop to learn how to sing in a jazz swing style in preparation for our next concert. More than a hundred people attended, many of them guests from other local choirs and it was great fun
What do you personally enjoy about being in the choir?
I enjoy the challenge of performing some seemingly quite difficult pieces, but having fun at the same time. This is achieved though the guidance, patience and enthusiasm of our talented musical director Ben Sawyer.
What kind of music do you sing? Can anybody join?
We are a community choir and welcome anyone who wants to sing - there are no auditions. Being able to read music is helpful, but not essential. Our repertoire ranges from the standard classical choral works like Fauré's requiem to more fun pieces, such as Alexander L'Estrange's Zimbe and Ahoy! We've also performed songs from shows such as West Side Story and Les Misérables as well as other popular classics.
Hanley Voices rehearses at Hanley Castle High School on Wednesday evenings during term times from 6.30pm to 7.45 pm. If you are interested in finding out more, contact Suzanne Hirons on (01684) 593737 or by email, suzanne.hirons@virgin.net. You can read more at www.hanleyvoices.org