All About the Malvern Hills Car Clubs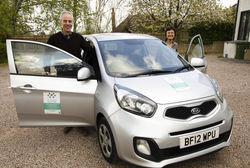 Malvern Hills Car Clubs is going from strength to strength. With a fleet of vehicles, including cars in Malvern, Ledbury and Colwall, it means the club's members don't need to own a car but can simply book one when needed. Nick Martin from the club tells us more.
How did the club begin?
We started eleven years ago with the aim of helping to reduce carbon emissions as well as being a community initiative to connect people. Our aim remains to reduce the number of cars on the road, it even addresses a parking problem in some places.
Today there are 18 vehicles in total. One is a 4x4 pick-up which is great for house moves, trips to the tip, or towing a caravan. There are electric cars, smaller cars and larger cars, for whatever purpose you have in mind.
Each car sits outside the house of a keeper, someone who looks after it. They regularly check the air, water and tyre pressures. They also log the mileage so the club can keep track of members' usage.
We insure the cars and look after all the servicing and MOT needs. Its means that for many people, its probably cheaper to join the club than own your own vehicle.
How does it work for members?
Our ambition is to have enough cars so that our members are never further than a ten-minute walk from their nearest vehicle. They pay a modest joining fee and then a monthly fee to be a member of the club. When you use a car, we keep track of the amount of time you have it and the mileage covered, before calculating the cost.
Members can use the booking system on our website to reserve a vehicle, and bookings can be easily changed or cancelled without penalty. Booking slots are broken into 15-minute chunks, so if it's a genuinely quick trip, that's fine as well!
Who are your members?
We have 150 households signed up. This means for example that in my home I'm the member and my wife is a nominated driver who can use cars through my membership. The club is especially good for people like us who don't use a car very often. If you use your vehicle three or fewer times a week it's definitely viable. I know of another member with a family who sold one of their cars when they realised how little their second car was actually used.
What will the future bring for the club?
We have recently been approached by communities in other places in Worcestershire and Herefordshire who are keen to bring a similar club to their area but are struggling to get things started. We have more than a decade of experience of running the club and hope to be able to help them. Several places locally have declared a climate emergency and so our work is becoming more relevant than ever.