All About Work Experience Blog 2015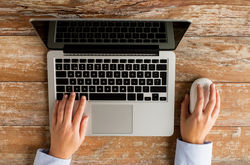 Sarah Gittings, 17, Hanley Castle High School.
Work Experience Blog- All About Magazines
I've just finished my week at All About Magazines and thanks to the team, I've learnt a lot from all of the different areas - everything from running your own business during my introduction with Sascha on Monday morning, and designing the magazine, to spending time with Tina and learning about everything involved with the sales side of things, and also, writing articles on unlikely things (150 words on tyres, and an article on allotments- done!).
It's been a week that's been full of excitement and I'm delighted that I've been given a great number of opportunities that I've never had the chance to experience before - I've visited a funeral directors, a tyre company and the Swan Theatre all in the space of a week! Being a deliverer of the All About Malvern Magazine for around 3 years now, I've always had an interest in visiting the business and seeing how the magazine gets put together right from the start to the finish and I was lucky enough to be able to visit them during a pretty busy week - the week before deadline, eek! Despite this, they have all offered me help and guidance in the journalism, magazine and running your own business industry; it's changed my mind and I've realised that journalism is something I'm interested in doing, even if it's not as my main career!
During my week, I've been given the challenge of reducing big press releases down to a specified word limit (between 50 and 150 words!), inputting data online for the Worcester Festival events, and just generally helping out! It's been a really active week and I've learnt a lot about many, many, many different things so thank you to Sascha, James, Julie and Tina for letting me spend time with you this week, it's been great and something I will never forget!
The only upsetting thing is how fast it went; it doesn't seem five minutes ago that I was sat with Sascha during my pre-work experience interview talking about what I wanted to get out of the week with you, and you succeeded and offered me more than I expected!
I'd truly recommend this opportunity to students that are interested in the journalism industry as during the week I've learnt a number of vital skills, thanks to James, including the ability to write quickly and also maintain an interest and conversation with your interviewee, as well as getting them to repeat information as you don't want to produce the wrong information in the magazine or online!
If I could re-do the week again, I would love to without a second thought. There hasn't been anything that I haven't enjoyed and I wish the lovely team all the best for the future of All About Magazines, hopefully they will continue to grow and produce the same high-quality magazines for the local community for many, many, many more years to come!