Appeal for volunteer sighted guides in Malvern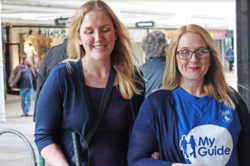 Guide Dogs is appealing for volunteers in the Malvern area, who could spare a few hours to help local people with sight loss get out and about.
Although the charity is best known for the guide dog service, it also runs a service called 'My Guide' where it matches volunteer sighted guides with visually impaired people.
Each volunteer supports the person they are partnered with by guiding them around their local area, for a few hours a week or a fortnight.
A volunteer may help someone do activities such as visiting shops or simply going for a walk.
Val, from Droitwich, is visually impaired and was recently partnered with her My Guide volunteer, Lindy, who also lives in Droitwich.
Val said: "I applied for support from a My Guide volunteer to help me get out and about, make me feel more independent and to do something with someone else too.
"There is also limited public transport in my area, which makes it harder for me to get out on my own."
Val and Lindy have been out together once so far and hope to visit some local National Trust houses and gardens together in the coming months.
"On our first trip out together, we had a fabulous time," Val said.
"Lindy is excellent company, we have a good laugh together and have lots to talk about."
Beth Wise, My Guide Volunteering Manager for the Malvern area said: "Being a My Guide volunteer is fun, flexible and rewarding and we partner people based on common interests.
"If you could spare just a few hours a week or a fortnight to help a local person with sight loss get out and about, then please get in touch!"
Volunteers must be 18 or over. No experience is necessary and full accredited training is provided. Guide Dogs is also required to carry out a full enhanced DBS check for each volunteer.
If you are interested in volunteering as a sighted guide in Malvern, please contact Guide Dogs Birmingham on 0345 143 0194 or email beth.wise@guidedogs.org.uk