Autumn in Malvern Festival 2016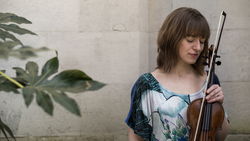 Now in its 27th Year, the Autumn in Malvern Festival continues to bring world-class performers, art and discussion to the town during September and October.
This year, the brilliant young violinist Fenella Humphreys joins the chamber choir Aldwyn Voices, to present a programme of choral music and works for solo violin. Fenella performs internationally as a soloist and a number of eminent composers have written music especially for her to perform. For her appearance in Malvern she will play Elagie, commissioned by the festival from the Scottish composer Rory Boyle. It is performed on 30th October in Great Malvern Priory.
Before that, the European Union Chamber Orchestra opens the festival at Great Malvern Priory on Saturday 17th September, when they play music by Bach, Faure, Mendelssohn, Mozart, Walton and Bartok. Another internationally-renowned performer, the pianist Emma Abbate, will appear with The Tippet String Quartet as they play music by Dvorak and Benjamin Britten at Malvern College on Saturday 22nd October.
Among the talks taking place is Light in the Darkness: The Malvern Conference 1941. During the dark days of World War Two, eminent members of the clergy met in Malvern together with T.S. Eliot and Dorothy L. Sayers. Here, they discussed their vision for a post-war society based on social justice and he unification of Europe as a cooperative commonwealth. Professor Christopher Baker presents his talk in the Great Hall at Malvern College on Friday 21st October at 7.30pm, entry is free.
As in previous years, the festival marks The Big Draw, and on the morning of Saturday 15th October, free professional tuition is on offer at an event being held at South Worcestershire College on Albert Road North in Malvern.
Tickets can be booked from 1st August by calling (01684) 892277. A free entry scheme operates for young people to selected performances. www.malvernfestival.co.uk
Photo: Fenella Humphreys by Ian Stark